I figured I'd start off this post with a cupcake, because who the hell doesn't like cupcakes? I did my first test bake/sample day for my cupcake business
"Creme de la Cupcakes"
and it was a total hit! I made a dozen of these delicious Cappuccino Cakes, and they sold like hotcakes. Success! They were amazing. It's a chocolate espresso cake with vanilla buttercream and espresso syrup. I'll probably do at least one test bake/sample day a month, but otherwise I'm just taking orders for entire batches. If you're ever in the central coast of California, look me up!
A great new diner called Wee Shack opened up a couple minutes away from the high school, so Gryphon and I decided to try it out during our free period. It was absolutely incredible, with probably the best burgers I have ever eaten! It had a total fifties feel too, and after we left with our milkshakes and leftovers, we realized that we had unconciously dressed the part:
Not our car, by the way, but we wish. Also, his jacket was thrifted, and is in excellent condition. We're always so lucky at the Goodwill!
Gryphon, by the way, is so awesome. He's my photographer, thrifting buddy, acting partner, project assistant, and fellow vintage music and culture enthusiast. In fact, this weekend he's going to spend many hours draping me in paper mache so I can finally have my own body mold for dresswork!
I figure I should share a little about him, as he's most likely going to be a regular feature on my blog, and I already mention him quite a bit. We've been together two years, met through acting, and he's been my best friend for a long time! It's very nice to have a personal photographer to take my blog photos for me, is all I'm saying.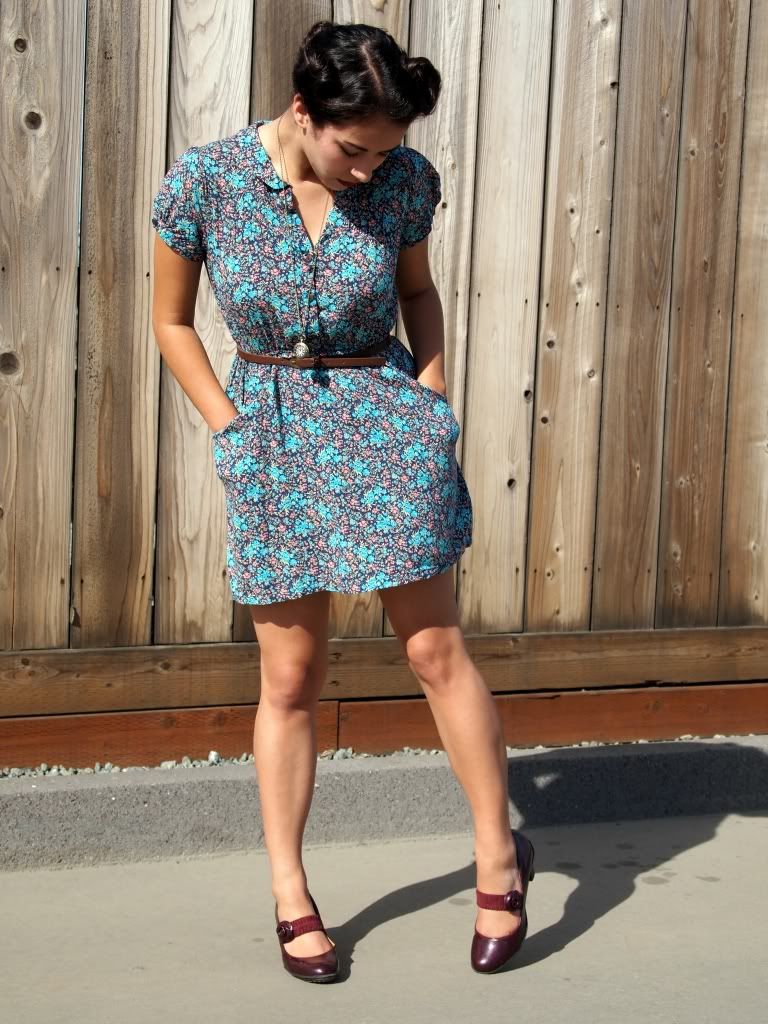 Dress-thrifted, Belt-thrifted, Necklace-H&G, Shoes-Target
It has been hot in an ungodly way this week, which is a major suck because I just bought a bunch of great winter items from an estate sale, and I can't wear them quite yet! My purchase includes a lovely pair of vintage riding/driving gloves that would only be acceptable in the bitter cold. I'm sad.
In future posts I'm probably going to be much fatter. Needless to say, we've become regulars at this new diner. In fact, we went twice the first day, and it's only getting better.