I wish I had more money and more time to go thrifting, learn to sew, and refashion things. I have an idea for a project that I'll hopefully do this weekend, which I'm sure will be very helpful to me. I found a tutorial online about how to make a dress form out of your own body shape, and I can't think of why anyone wouldn't want to do it. I need a good dress form, and it'd be so helpful to make adjustments to garments on a body identical to yours!
I love the look of this floral fabric covered form:
The process of making a dress form involves covering my semi-naked self in heavy duty paper mache, standing completely still for two hours while it dries, and then cutting it off of my body and filling it with plaster. Definitely sounds like fun.
Hopefully I can at least go shopping for some pretty fabric for my dress form this weekend. I procrastinate so hard that hoping to accomplish the whole project in one week is pretty far-fetched for me!
My outfit today was very "Business Casual", as one of my friends called it. I straightened my hair for the first time in months in order to do proper Victory Rolls, but for some reason they didn't quite turn out the way I wanted. They look good, but I think my hair is too long to keep a good shape. I will definitely experiment with these in the future.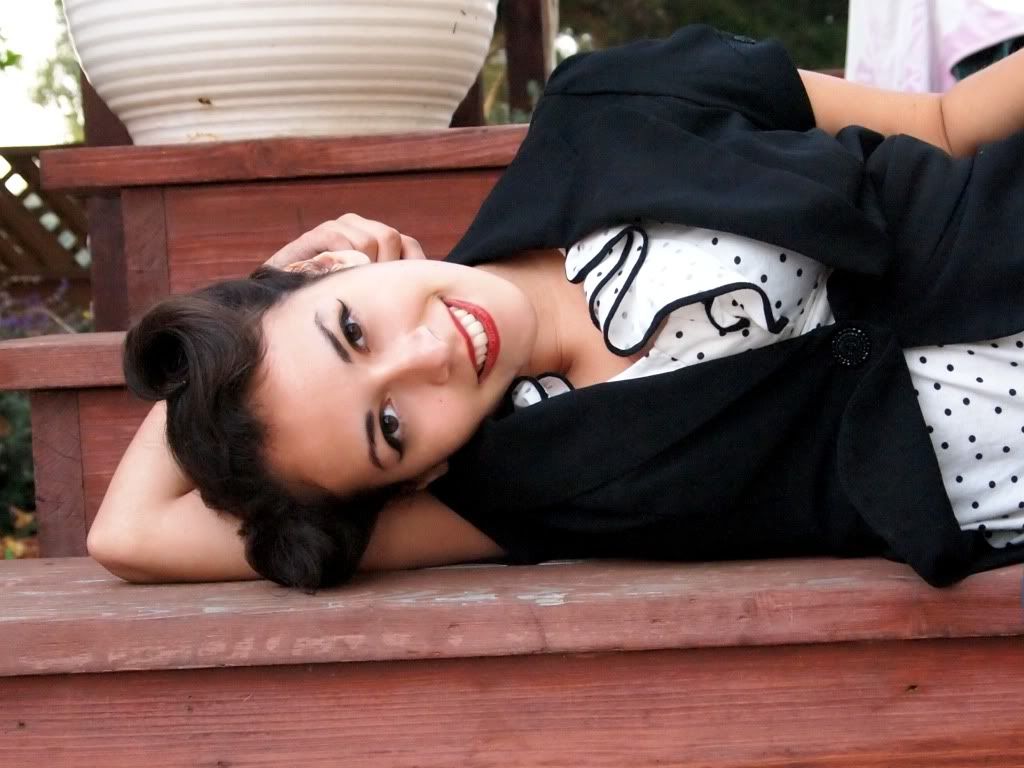 The top roll turned out nicely, but the bottom one...blegh. It's much harder to shape rolls on top of your own head than it is on somebody else, especially when your hair is more than a foot long and thick. And frizzy.
Blazer-thrifted, Blouse-ELLE, Jeans-Levi, Shoes-Vintage
Today I began work as an Assistant Director for the school play. It's called
Wait Until Dark
, based on the 1967 movie with Audrey Hepburn. A friend of mine, Jamie, is doing hair and makeup for it, and there will be a ton of retro costumes that are most likely vintage pieces being worn. I'll definitely get pictures of everyone dressed up as time goes on!
I need to think of a clever ruse in order to get subscribers. I'm not that boring, am I?