I'm so clever. The title of this is a clever play off of the common saying "TGIF" or "Thank god it's Friday". Indeed! But also, "Thank god for vintage dresses!" More on that later.
My outfit today was very librarian-esque. Many people tell me that I look like a librarian most days, actually. So heres a photo of me in my natural habitat:
Blouse-Old Navy, Skirt-Francie's Boutique, Shoes-TJMax, Necklace-Vintage
So while I was at school today I realized that I have a ton of awesome vintage dresses that I never get to wear because they're either too wild for school, or they don't fit me quite right and I still need to make adjustments to them. Since it's Friday, I decided to have two of my awesomely beautiful friends over to help me model them! Introducing Wren:
Wren obviously has very short hair, but I decided to branch out of my usual hairstyle repitoire, and I gave her a faux-bang. It looks so adorable on her! Ah! This dress is vintage and I love it to pieces, but the button-holes are so large that they keep popping open over my much larger bust. In fact, they were even popping open on Wren, but at least it wasn't quite as constant. If I were to wear it, I doubt we would have been able to get a decent picture.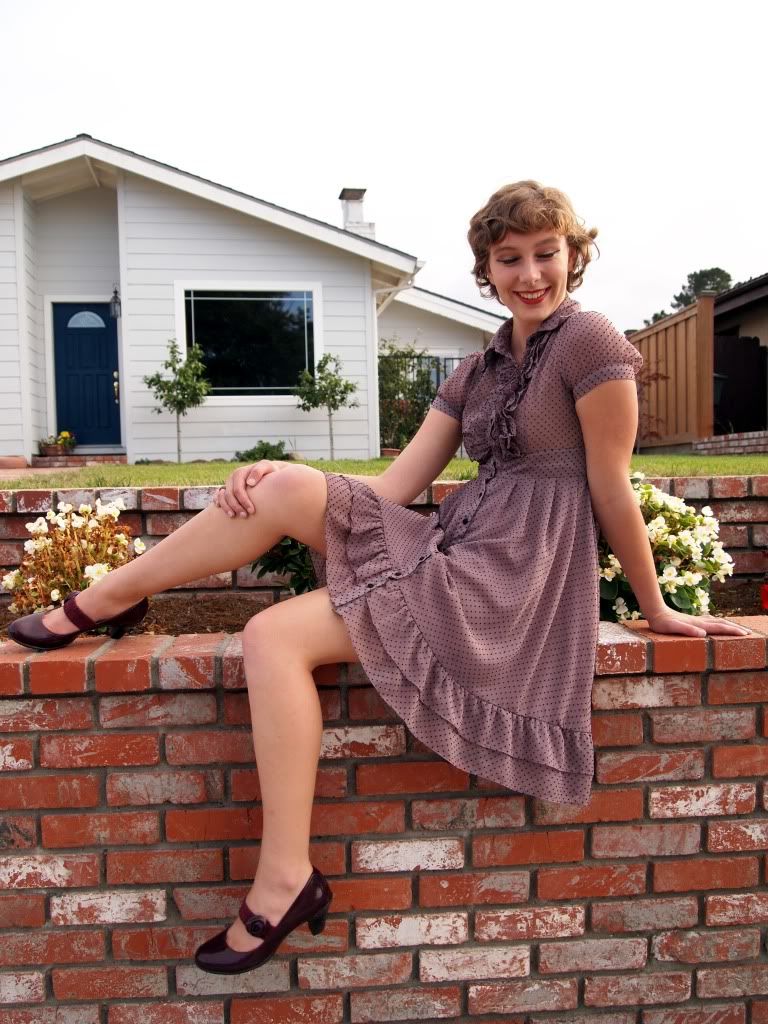 My other friend, Verona, is the female version of my boyfriend, who happens to be her brother. She is tiny and probably wouldn't fit in any of my thrifted items, so she brought her own vintage dress, given to her by an Aunt. It is adorable, and I wish it fit me.
She looks stunning in everything, but I'm definitely going to make her wear her hair and make-up like this every day. Her jewelry is mine, or my great-great Grandmother's, I should say. I recently got a huge box of vintage jewelry that my own Grandmother found and thought I would probably wear. And I have. Almost every day. And I love it.
For a while I just thought I sucked at making Victory Rolls. But after doing Verona's hair, I've realized that it's just my hair that sucks at Victory Rolls. Straight hair is definitely the way to go. My hair is obnoxiously curly, and it just turns out looking like I have two large tumors on my head. After many long years, I shall be breaking out the hair straightener specifically so I can do lovely rolls on my head!
And last but not least, me, in a thrifted dress from (I'm guessing) the late 40s. I love this dress, but obviously I can't wear it to school. I'm putting it on the backburner for Prom later this year. You'll probably see it on me again in the months to come!
Yeah, I know. I'm a ham.
EDIT: The rest of the photoshoot is available to view on my photobucket account
here!
Enjoy!