Yesterday I was feeling crafty and strangely motivated, and because I had a day off from assistant directing the play our theatre program is working on, I decided I was going to work on some sewing.
I'm not the best sewer. I tried sewing my Prom dress last Spring, but eventually that became a project for my mother and grandma, because they didn't want me to mess up the expensive material. So I decided that refashioning something I already own would be a nice stepping stone from me. I bought this really 80s, ugly red skirt from a thrift store a couple weeks back and I've been meaning to do something to it, so I got it out and tried it on. It was way too long, almost down to my ankles (and it's a pencil skirt, pencil skirts should not be that long!) and really tight around the waist.
I keep stupidly forgetting to take a before picture of the clothing I refashion, but I found a picture online that may or may not be the original skirt, but even if it's not, it looks exactly like it:

Of course, I have stubby legs, so the skirt is longer on me. But you get the general gist. Not a very flattering length. I shortened it about four inches, moved the back clasp on the waist for a wider fit, and with my extra red fabric I made a little bow to go on the waist-band! Here is the finished result:

Bah. I still need to iron it, the bow is all wonky in this picture. But I'm very pleased with the result! The waistband is snug, but much more comfortable than it was before, and the length is perfect. I think the bow is a cute touch as well! And I did it in two hours, which is rediculous if you know me.
Blouse-Forever21, Skirt-refashioned, Necklace-H&G, Shoes-Bass
This is definitely one of my favorite outfits I've worn so far. I've always loved the red with polka dots look. Of course, this morning when I put it on, it was sunny and warm in my town, which is almost unheard of, but when I drove to school it got progressively foggier and foggier until I couldn't see where the horizon was, which is normal for Morro Bay, but I was very dissapointed. Also, I didn't bring a cardigan or jacket, so I was cold.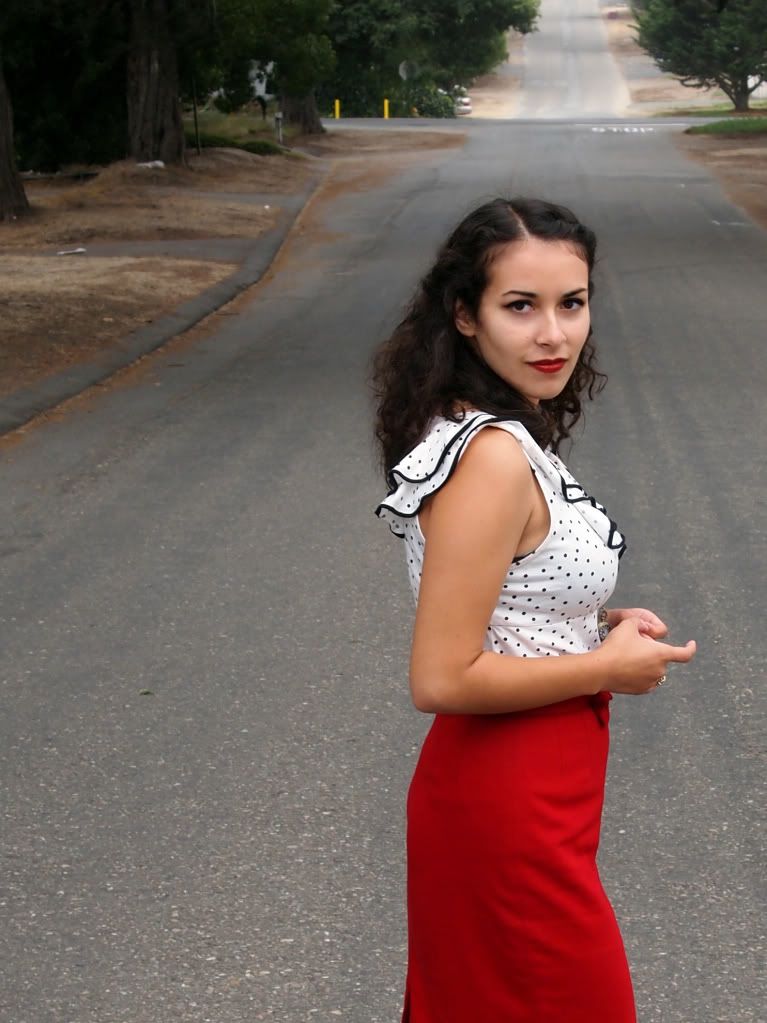 It was kind of worth it though.